After the Mezquita, we ate lunch at a restaurant nearby that had a "Recommended by Tripadvisor" sign. Later I found they indeed had high reviews on Tripadvisor. But for us it was just o.k.
1. Potato salad with shrimp and tuna. It was on their tapas menu, tasted just like the American version.
2. Some kind of local bean soup with chorizo sausage. It sounded good, but tasted awful to me.
After lunch, we walked all over the city under a baking hot sun.
3. View of Mezquita-Catedral from the other side of the Roman Bridge. Córdoba was conquered by the Romans in 206 BC. This bridge is the only bridge the city had for twenty centuries, until the construction of a second bridge in the mid-20th century.
4.
5.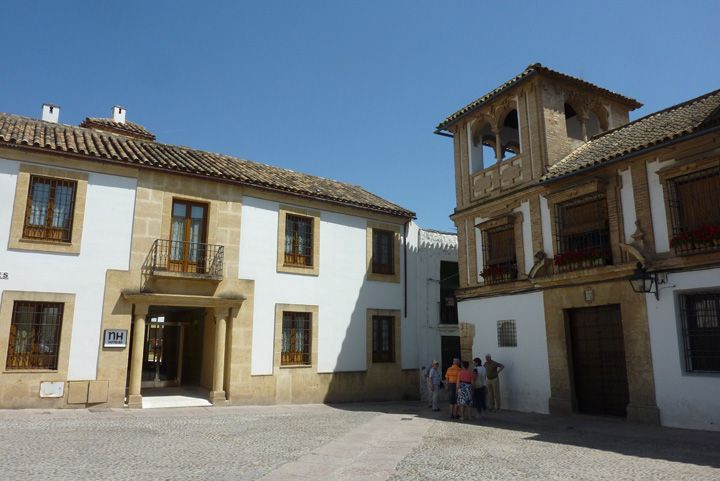 6. A cute drain spout.
7. Unique door knockers and handles.
8. All over the city, we saw people had beautiful entryway like this.
9.
10. Hand shaped door knocker.
11. Entryway stairs with beautiful tiles.
12. Roman temple.
13.
We got back to the train station around 4:15 pm. I asked the ticket guy when is the next train to Madrid. He said the next available 2nd class tickets would be for the 7:30 pm train, and it is 68 euros/person, or we could buy 1st class tickets for the 5:00 pm train for 103 euros/person. I couldn't believe they could sold out tickets like that. It was not peak season yet. Anyway, we didn't want to wait around train station for 3 hours, so we bought the 1st class tickets. They did serve drinks, a small sandwich, and a small dessert in 1st class.
14. Soft drink and beer served on the train came in baby size.
We arrived in Madrid before 7:00 pm. Found our hotel between "Opera" and "Sol" metro stops on a pedestrian only street. I booked this hotel because of its central location. It is located within 270 yards of Madrid's Plaza Mayor and Puerta del Sol. How much more central a hotel can be? But I totally underestimated the noise level people on the street below could generate. The street below was so bustling in the weekend and remained bustling till 7:00 am the next morning. Our room was on the 5th floor, and we could hear the noise below through the earplugs with our window closed and shutter shut.
15. Our hotel.
16. Our room.
17. Found a meat shop near our hotel. They sell Jamón (dry-cured ham), sausages, lunch meat and bread etc in one end, sandwiches and drinks in the other. Despite its central location, a plate of Jamón only cost 3 euros here, definitely the best bargain of the trip.
18.
19. A plate of Jamón only cost 3 euros here.
(To be continued)