Before going to Taipei, I remembered looking at weather forecast of Taipei for the next week, it showed shower every single day, yet the whole time we were there, it never rained at all. Yeah, it's a bit too cloudy than we'd like, but it still beat raining. Our first stop of the day was Chiang Kai-shek Memorial.

1. Approaching Liberty Square surrounding Chiang Kai-shek Memorial Hall.



2. Liberty Square.



3. Chiang Kai-shek.



4. The changing of the guards takes place every hour on the hour.



5. Liberty Square from Chiang Kai-shek Memorial Hall.



6. The ground level of the memorial has a museum documenting Chiang Kai-shek's life and career.



7.



8. Chiang Kai-shek office's layout.



9. Chiang Kai-shek Memorial Hall again.



10. Back to Liberty Square.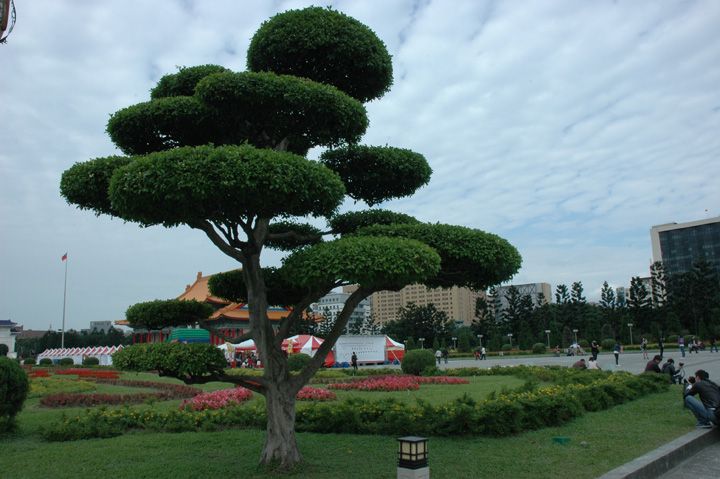 From Chiang Kai-shek Memorial, we went to Din Tai Fung (鼎泰豐) restaurant on Xinyi Rd. I had never heard of Din Tai Fung until just before the trip. An online friend (謝謝愛廚) who is from Taiwan told me about it. She said so many people who come to Taipei will drop their luggage at the hotel and come to the restaurant immediately. It's quite famous.

Even with that in mind, Dave and I were still shocked to see the hundred or so people waiting in front of the tiny store front. The taxi driver was literally laughing at our expressions. I had no idea what to do. Do you get a number? Or do you put your names down on a waiting list? A police looking guy told me to get a menu from the restaurant staff standing by the door. They would write down our number on it. So we got a #8, and they were calling #65 at the time. We were told it's about 70 minutes wait. Good, at least we didn't have to wait in line. There are many shops nearby to look at, and even a forest park two blocks away, so the time passed by quickly.

11. People waiting in front of the restaurant.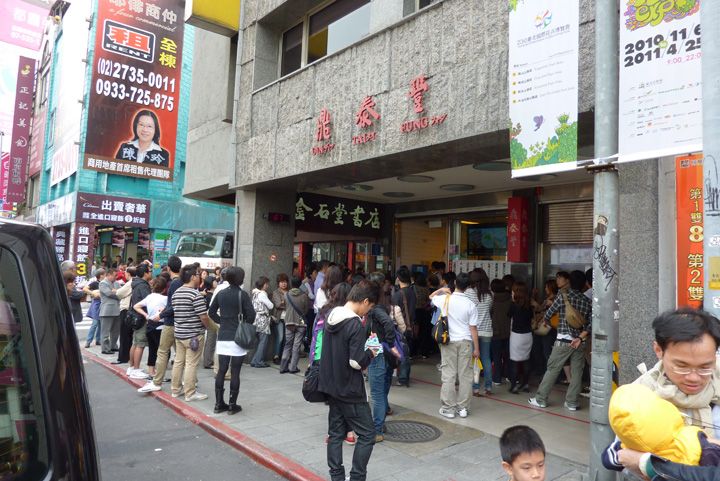 12. Just outside the restaurant.



13. kids watching workers inside making dumplings.



The food was delicious, no doubt about it. But I was most impressed by their service. They were so professional and efficient. For example, while I was waiting by the door when our number was getting close, one of the staffs offered to help me with my ordering. She not only recommended dishes most people like, but also told me that I could order half a steamer instead of full steamer so I could try more varieties. Who knew! Besides, she put my order in before my number was even called and marked on the menu some more items just in case we needed more, so later when we got a table, our food started arriving almost immediately. How efficient that is!

After lunch, we went to Longshan Temple. I don't know if that day happened to be a holiday or what, the temple was packed, and people brought all kinds of offerings to the temple.

14. Longshan Temple.



15. Longshan Temple.



16. One of the food offering tables.



17. Some of the flower offerings.



18.



19. One of the many incense burners in the temple.



After Longshan Temple, our next and final stop of the day was Ximending (西門町), a busy shopping district in Taipei, although I was most interested in eating there. My network friend told me several eateries (阿宗麵線,鴨肉扁,繼光香香雞) there are quite famous.

20. Just out of Xi Men MRT station.



21. Simon Red House.



Ximending is a lot bigger than I thought. We walked several busy streets and still didn't see any of the eateries I was looking for. Since Dave can't read Chinese, he asked me to spell the name of the restaurant out, hoping he could help me find it. So I told him the first one: Ah Zong Mian Xian (阿宗麵線). A mid-aged man who was walking by with his son heard the name and said to me, "Are you looking for Ah Zong Mian Xian? I know where it is." He gave me the direction, and repeated it one more time to make sure I got it right. We found the place easily after that.

22. Ah Zong Mian Xian turned out to be a food stall with no tables, only a handful of plastic stools laying around. Yet people continued to queue up at the stall.



23. The guy behind the counter was pouring Mian Xian into either a large or medium size of bowl at a superhuman speed. I don't know how can anyone be so fast.



24. Our Mian Xian. At 60 TWD/large bowl (~$2), 45 TWD/medium bowl (~$1.5), I don't know how can they make any money selling this delicious food so cheap.



(To be continued)