January isn't always awash with things to feel grateful for, but here's one: thank your lucky stars, right now, that you are not a Hollywood A-lister. At least the rest of us get to do the month in long polo-neck sweaters and flat ankle boots, but awards season – Hollywood's most naked season, as well as its most nakedly competitive one – starts hard on the heels of the new year, and there is no dress-down option. This Sunday, the Golden Globes will fire the starting gun on a red-carpet season that will rev up again next week with the Oscar nominations announcement. Here's our pre-season form guide to the faces and frocks to look out for, in the race to be crowned best dressed.
Alicia Vikander Does Vuitton Sci-Fi Hipster
Alicia Vikander is the name to watch on the red carpet this season. For a start, she's Swedish, which is to being cool and hip now what being French was 40 years ago. She is nominated for two Globes: for her role opposite Eddie Redmayne in The Danish Girl, and in the supporting category as robot Ava in Ex Machina. As the new muse and campaign star for Louis Vuitton, a role previously held by Michelle Williams, she is fashion's golden girl. Hollywood has always embraced quirky, offbeat, European-sophisticate actors, who provide the perfect foil for the homegrown white-toothed beauty queens. Alicia Vikander's enigmatic half-smile is very early-era Vanessa Paradis, and she brings a cool-girl, never-trying-too-hard effortlessness to red-carpet dressing. (See: the art-studio half up-do she wore, along with a Virgin Suicides-ish Erdem ruffled dress, at the Palm Springs film festival). Expect to see the Vuitton-Vikander axis bring some haute-futuristic chic – think Rey from Star Wars dresses up - to the red-carpet season.
Cate Blanchett Plays the Marc Jacobs Diva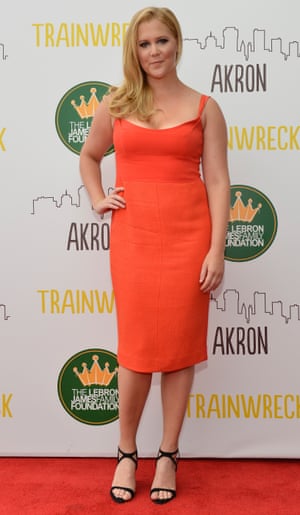 Dress: chiffon bridesmaid dresses
Cate Blanchett begins her red-carpet campaign as the reigning queen of Hollywood fashion. To her own unimpeachable style credentials she has added new ballast with her role in Carol, the year's most gorgeously dressed movie. Costume designer Sandy Powell – a triple Academy Award winner herself – says that the tailored silhouettes, chic little hats and cat's-eye sunglasses worn by Blanchett in Carol were based directly on issues of Vogue and Harper's Bazaar from the winter of 1952/1953, when the film was set, to give it real fashion credentials. On last year's red carpets, Blanchett wore a lot of sculptural Margiela and Armani: the sort of difficult, anti-pretty dresses whose subtext is: I can pull this off because I am awesome. Blanchett has started 2016 strong, debuting a long-sleeved, ice-blue Marc Jacobs gown, which was designed for September's NY fashion week show, but due to ambitious embroidery wasn't ready until an hour after show time. With Marc Jacobs a red-carpet force to be reckoned with, we have our fingers crossed for further Blanchett-Jacobs hook-ups incoming.
Leonardo DiCaprio Brings Back Burly
The Revenant hit on a new way to bring Oscar buzz with last year's bizarre bear-rape rumours. But the fashion industry was already entranced by DiCaprio's look: in some of the earliest released images from the film, he wears a giant, fluffy fur, which calls to mind the golden age of Hollywood: think Bette Davis, in a white fur collared-coat.With Eddie Redmayne surely the prettiest ever contender for best actor, those actors without the elfin cheekbones to compete on Redmayne's turf may turn to DiCaprio's bulkier, more primitive form of manly glamour. (See also: Matt Damon in his spacesuit in The Martian.) Is DiCaprio in these overalls, as seen on the Givenchy catwalk, too much to hope for?
Brie Larson Gives Hollywood the Cold Shoulder
To give the cold shoulder, in fashion terms, means the exact opposite of what it used to mean. A bare shoulder is spring fashion's key look, and what you put on display when you really, really want to impress. Brie Larson is in the spotlight for her role in Room, as a young mother held captive; she is aiming to offset the grittiness with a wholesome, upbeat red-carpet identity. (That she is taking her red-carpet charm offensive seriously can be seen in her hiring of Cristina Ehrlich, LA power stylist.) Larson, once known for her eccentric choices (loafers on the red carpet, tricky prints) has been zeroing in on athletic, simple bare-shouldered dresses as a demure way to show skin, and a surefire way to look on-trend. If she gets an Oscar nod, this Oscar de la Renta dress might well be on her shopping list.
Rachel McAdams Ruffles Some Feathers
Rachel McAdams is on a career high playing a succession of unfluffy female characters, to great acclaim: first, her awesomely dip-dyed turn in TV's True Detective, and now her role as a journalist in Spotlight, released in the UK later this month. Her fashion choices, however, remain distinctly fluffy. McAdams loves a ruffle, whether it's Valentino for a black-tie event or Self Portrait for a TV interview. This puts her in pole position this season, owning a look that is catwalk gold right now. Gucci's new-look ruffles have given the frilly dress an arthouse makeover. Accessorise with an undercut and some kind of pointy ear jacket, for maximum impact.
I mean, no offence to Kendall and all but this is Cinema. This is Art. This is the season for directors to cry on stage about THE ETERNAL POWER OF STORIES. So a couple of junior Kardashians and a bunch of models high on their Instagram power really don't cut it, frankly. Balmain is a savvy enough brand to know when new ambassadors are called for, and, after Amy Schumer's standout turn in a long-sleeved, graphic monochrome minidress at the MTV awards, came Jane Fonda at the Hollywood film awards in November, wearing a white crop-top jumpsuit. Amy Schumer, nominated for a Golden Globe this weekend for Trainwreck, would bring the party in this emerald Balmain number.
Also Read: http://www.kissybridesmaids.com/vintage-bridesmaid-dresses