要是你有訂閱Outdoor Photographer和Popular Photographer的同學們可能會注意到好多好的佳能風光師用尼康的14-24來作為拍風景的go to lens。
英國著名攝影師David Clapp關於尼康的14-24
http://www.davidclapp.co.uk/blog/view/the-nikon-14-24-on-a-canon-1ds3-a-landscapers-report
著名佳能攝影師Ian Plant
http://www.ianplant.com/blog/2011/01/25/nikon-14-24mm-f2-8g-ed-af-s-lens-review/
也有佳能的同誌因為14-24而出家入尼了 (他自己的話 ):
也有樓下的同學認為zeiss 21mm會把尼康比的很難看:
http://www.ephotozine.com/article/carl-zeiss-21mm-f-2-8-and-nikon-14-24-f-2-8-lenses-are-put-to-the-test--review-11118

Well I am surprised to say the least, elated and overjoyed all in one. The Carl Zeiss 21mm f/2.8 was a dream lens that I had speculated was the holy grail of all wide angles, but I am very glad I didn't buy one, especially now. The Nikon is an exemplary performer in the 21mm focal length, if not a gnats hair sharper when comparing the two, which is a total surprise to say the least. Mark Welsh's orignial comparison of the Carl Zeiss 21mm and the Nikon 14-24mm showed a distinctive difference, that the Zeiss was still top of the tree, but all I can say from examining my test carefully is that this is not the case with my own Nikon 14-24mm f/2.8 and the Carl Zeiss 21mm.
有同學在樓下問我為什麽不用尼康的機器來玩加能的牛定,我現在把答複提上來: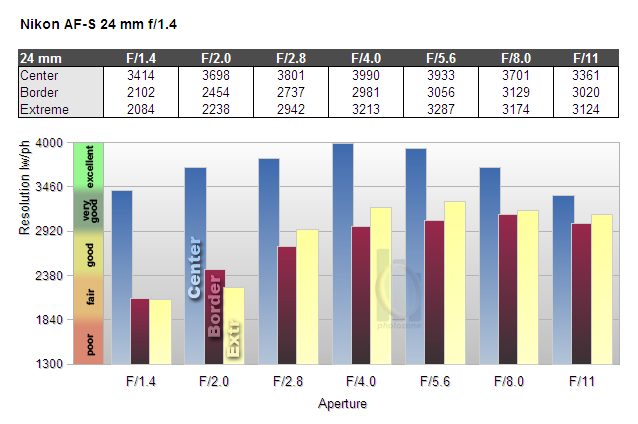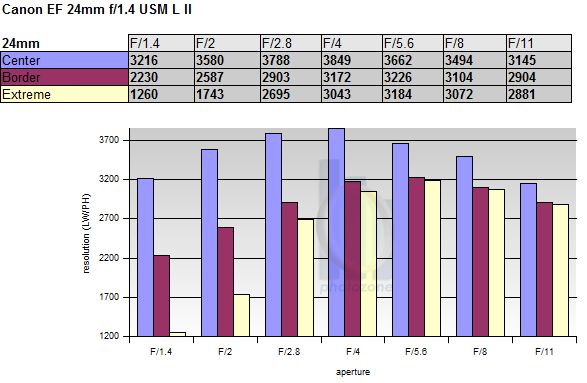 尼康14-24和佳能14mm F1.4L牛定製在佳能的機器上的表現
At this point, we're simply presenting the test results without further comment. These are among the first detailed samples presented of Canon's latest Mark II 14mm used on the 22MP 1Ds III, and the very first pictures ever shot using Nikon's 14-24mm f2.8 G on the Canon 1Ds III. The pictures speak for themselves.
Resolution & Drawing Style: Zone A (centre frame) at 14mm f2.8
| | |
| --- | --- |
| | |
| Canon 14mm L Zone A at f2.8 | Nikon 14-24mm Zone A at 14mm f2.8 |
Resolution & Drawing Style: Zone B (mid frame) at 14mm f2.8
| | |
| --- | --- |
| | |
| Canon 14mm L Zone B at f2.8 | Nikon 14-24mm Zone B at 14mm f2.8 |
Resolution & Drawing Style: Zone C (corner) at 14mm f2.8
| | |
| --- | --- |
| | |
| Canon 14mm L Zone C at f2.8 | Nikon 14-24mm Zone C at 14mm f2.8 |
---
Resolution & Drawing Style: Zone A (centre frame) at 14mm f5
| | |
| --- | --- |
| | |
| Canon 14mm L Zone A at f5 | Nikon 14-24mm Zone A at 14mm f5 |
Resolution & Drawing Style: Zone B (mid frame) at 14mm f5
| | |
| --- | --- |
| | |
| Canon 14mm L Zone B at f5 | Nikon 14-24mm Zone B at 14mm f5 |
Resolution & Drawing Style: Zone C (corner) at 14mm f5
| | |
| --- | --- |
| | |
| Canon 14mm L Zone C at f5 | Nikon 14-24mm Zone C at 14mm f5 |
---
Resolution & Drawing Style: Zone A (centre frame) at 14mm f8
| | |
| --- | --- |
| | |
| Canon 14mm L Zone A at f8 | Nikon 14-24mm Zone A at 14mm f8 |
Resolution & Drawing Style: Zone B (mid frame) at 14mm f8
| | |
| --- | --- |
| | |
| Canon 14mm L Zone B at f8 | Nikon 14-24mm Zone B at 14mm f8 |
Resolution & Drawing Style: Zone C (corner) at 14mm f8
| | |
| --- | --- |
| | |
| Canon 14mm L Zone C at f8 | Nikon 14-24mm Zone C at 14mm f8 |
---
Resolution & Drawing Style: Zone A (centre frame) at 14mm f13
| | |
| --- | --- |
| | |
| Canon 14mm L Zone A at f13 | Nikon 14-24mm Zone A at 14mm f13 |
Resolution & Drawing Style: Zone B (mid frame) at 14mm f13
| | |
| --- | --- |
| | |
| Canon 14mm L Zone B at f13 | Nikon 14-24mm Zone B at 14mm f13 |
Resolution & Drawing Style: Zone C (corner) at 14mm f13
| | |
| --- | --- |
| | |
| Canon 14mm L Zone C at f13 | Nikon 14-24mm Zone C at 14mm f13 |
好了,大家應該很容易得出結論了,案例很多,花點功夫把前幾期的雜誌翻出來就會看到很多。